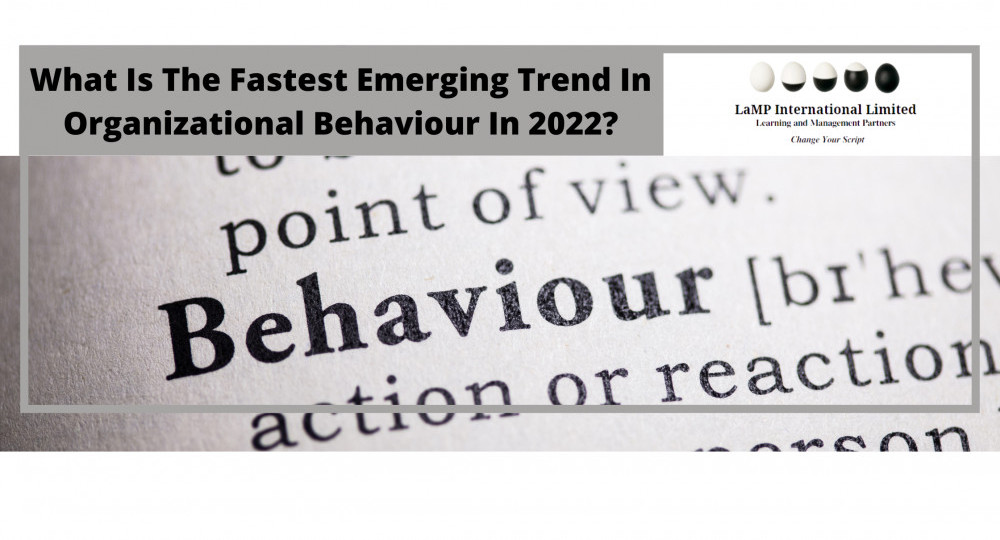 This article will reveal what is the fastest emerging trend in organizational behaviour in 2022. Organizational (organisational, if your are from the United Kingdom), behaviour refers to the study, research and analysis of human behaviour in groups and organizational settings.

It extends to how human behaviours interact individually, collectively, within and with the organization itself. These are a result of social and environmental factors that affect the way employees, group members and teams work to produce results.
Simply put, it is about how humans behave when they are together, functioning in a work environment, communicating and interacting with each other.
Human behaviour is active and its presence in an organizational or group setting produces a living system. To understand the scope of the discipline we need to understand individual, inter-individual and group behaviours.
Let's dive in.
Fastest Emerging Trend In Organizational Behaviour
---
The fastest emerging trend in organizational behaviour in 2022 includes trends that will directly influence the way work gets done. These may include rapid technological developments, an unprecedented pace of change, environmental factors such as the COVID-19 pandemic, social factors such as talent's changing expectations of their employers, changing demographic trends as the world gets flatter, the expanding global marketplace, the impact of economic factors such as inflation and interest rates, sustainable (or unsustainable) business practices and the ethical challenges being placed on individuals.
There were predictions in the years preceding December 2019 that the world's trajectory was unsustainable. Most of the intense discussions were around things such as global warming, the search for new and sustainable energy sources and human beings' lack of care and concern for their relationship with the earth.
Our behaviours toward work were driven by our needs and wanting to push the production of everything to its limits so that we could continue to acquire and consume as much as we could.
By March 2020, as the world came to an abrupt halt, people became caged in a life that few of us were familiar with. Our relationships with work – what it was, how we did it, who we did it with, why we did it – became chaotic.
Change Emerged The Leader
Frontline Workers in the health and hospitality sectors felt the brunt of it. The rest of us were left conflicted and confused as we watched the global supply chain collapse.
We slid all the way down Maslow's Hierachy of Needs and life became more about survival than realising any benefits from work let alone doing it.
Our behaviours struggled to adjust and the construct of work and organisations had to be redefined.
To say that we were ill-prepared is putting it very mildly.
Change won the award for being the only constant and immediately became the fastest-emerging trend in organisational behaviour.
If you cannot adapt your behaviours fast enough you will be left behind.
Now, let's explore some of the factors that may have influenced this fast-emerging trend.
RELATED >>> What Is Change Management About? 6 Key Points To Guide You
Rapid Technological Developments
---
From 2020 to 2022, Remote Work emerged as a legitimised construct. It is slowly and, in some cases, forcefully being embedded as one of the "New Norms" in the world of work.
Online job boards, such as those highlighted below, are springing up every day.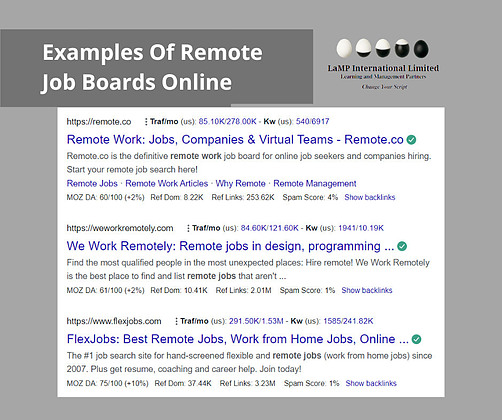 The need to maintain efficiency and effectiveness during our long periods of work-from-home and uncertainty required organisations to push the limits and become technology able. Many organisations were caught with their pants down and had to play catch up, almost overnight.
Organisations that had neglected Social Media and initiatives were being overtaken by smaller, tech-savvy individuals and startups.
This pushed a lot of demands and, at times, overbearing expectations on employees. They had to unlearn and relearn (the classic Unfreeze-Refreeze Change Model) how they did their jobs. This, of course, placed a lot of pressure on employees and this pressure was played out through their behaviours.
Many became frustrated, felt isolated and moved into 'Fight, Freeze or Flight' mode.
Although there may be a rise in the number of jobs available currently, your chances of getting to the door may be even slimmer than before.
RELATED >>> Flight Or Fight Response
Unprecedented Pace Of Change
---
My career started in Information technology (IT) in the early 1980s. As a Systems/Analyst, I was responsible for designing systems to digitise the way work was done in my financial organisation. After programming the systems, I was chosen to implement and train the employees.
This was my first experience with the challenge of change for employees. That experience led my career into some twists and turns and Change Management became my area of expertise for years.
As Change Agents, it is recommended that we take the approach of adapting employees' behaviours to the process or system being implemented. Today, those systems are primarily technological or digital, inside and outside of the organisation.
But is technology still the number one contributor towards the pace and volume of change that employees have to adapt to today?
Perhaps not.
All these other factors directly influence employees' abilities to embrace and manage change in our current work environments:
Climate Change
Gender Equality (or inequality)
Diversity
Inflation
Mobility
Business Process Outsourcing (BPO)
Shared Services
Global Warfare
Energy Supply
Worldwide economic instability
Access to food
Lagging educational models
Ageing Workforce
Rising number of Knowledge Workers
Greater demand for Work/Life Balance
The reality is that not only is our work construct changing rapidly, life as we know it is evolving right in front of us at a speed that is unprecedented.
The average employee's ability to manage all these changes and show up to work ready, able and willing to be productive and effective is at risk.
RELATED >>> Learning And Management – Keep Sharpening Your Effectiveness
Environmental Factors
---
The 2019 pandemic is ongoing. It has been the number one environmental factor affecting organisational behaviour for over two (2) years. But other environmental factors are also competing for high rankings and heading the list is Global Warming.
The cycle continues as all of these events affect the production and distribution of food, mobility of the workforce and an individual's ability to function effectively in the workplace.
Climate change is impacting our societies and causing unprecedented changes by disrupting the natural, economic and social systems that we rely on for our existence.
The disruption is affecting our food supplies, industry supply chains and financial markets, causing major damage to our cities and communities and negatively impacting human health and global development.
For employees, it is becoming increasingly difficult to manage all these external factors while behaving congruently.
(Dis)Stress causes internal conflict which pushes many, if not most, individuals away from congruency and the ability to live authentically.
RELATED >>> What Is Congruent Behaviour? How To Live Congruently
Talent's Changing Expectations
---
Social factors are also adapting to the changing needs and wants of employees and employers. What could be described as a war between employers and employees has resulted in major wins for employees.
The unprecedented job crisis that was created by the COVID-19 pandemic, caused a new trend to emerge in the United States labour market and in some other parts of the world. According to the US Bureau of Labour Statistics, over 4.5 million Americans voluntarily left their jobs in November 2021.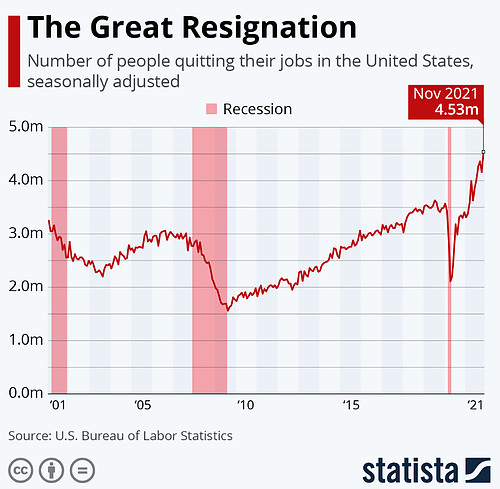 And, with good reason.
Many workers are saying "no" to the low levels of pay, poor working conditions and limited job progression that they settled for prior to the pandemic. Individuals have reevaluated their work priorities, what they mean for their health and well-being and the impact it has on their personal and family lives.
This is especially so with frontline workers in industries such as retail, healthcare and hospitality. In these industries, the concern for safety is playing a big role in employees walking away and choosing not to return to jobs that they once held tightly to.
RELATED >>> What Is The Fastest Emerging Trend In Organizational Development In 2022?
Economic Factors
---
Economic factors that commonly affect businesses include consumer behaviour, employment factors, interest rates and inflation.
We have spoken a lot about employment factors and the changing expectations of talent in organisations. Two of the other highest-ranking economic factors that affect organisational behaviour are inflation and interest rates.
The pandemic has resulted in a large basket of global issues which are yet to be resolved or slowed. Both employers and employees are battling with the rising cost of inflation which has reached double digits for the first time in Britain, 10.1% in July 2022 and over 10% in Alaska, Phoenix, Seattle, Miami, Houston, Baltimore, Atlanta and Tampa in the United States.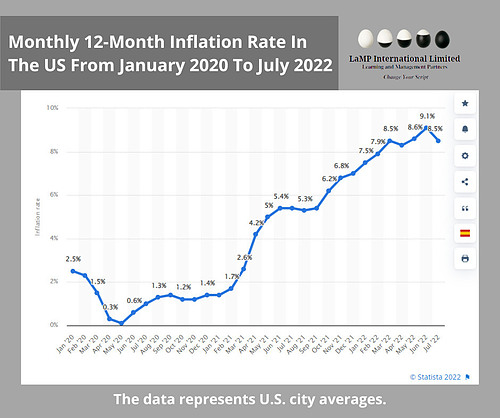 Organisations are challenged to offer their products and services to consumers at a price that is reasonable and sustainable. This is proving to be almost impossible.
At the same time, and without equitable increases in wages and salaries, employees are struggling to keep up with the daily price increases in products and services, especially food, transport and other basic living expenses.
When inflation is too high, the Federal Reserve will typically raise interest rates to slow the economy and attempt to bring down the inflation rate.
A rise in interest rates impacts the cost of lending for necessary commodities such as mortgages and vehicles. With mortgage rates rising, landlords raise their rents to facilitate the rising cost of borrowing and services such as insurance and maintenance.
These increased costs are passed on to mortgagees and tenants.
RELATED >>> Gravitas Plus: How Inflation Can Change Our World
Closing Thoughts . . .
---
Just as Palki Sharma explained so hauntingly in her July 3rd, 2022 inflation vlog, change, the fastest emerging trend in organizational behaviour in 2022, sets off a chain reaction that will take years, maybe decades, to stop.
Many may argue that we have been living with change since the beginning of time. It is, after all, the only constant and, that is true.
However, the PACE of the change – or rather changes – that surround us now is unprecedented. Changes are happening at the speed of light and individuals and organisations are breaking in their attempts to manage it all.
Human beings are creatures of habit. Change does not come easily to us. We thrive on the familiar and knowing what the future brings.
The things is, survival and success requires us to have change agility as a core competence. Sudden change causes natural productivity to decline. Change Agents recognise that it may negatively impact strategic execution.
Therefore, placing emphasis on speeding up the process – becoming more change agile – and aligning and equipping all stakeholders with the skills, knowledge and capability that they need to move through the natural decline stage faster is imperative.
It can drive effective transformation and cement change agility as a core competency.
Strategic execution, in tandem with effective change management, is six times more likely to meet or exceed objectives. Yet executives agree that the lack of change management skills is the primary barrier to successful strategy implementation, and over 29% of organizations react too slowly when implementing transformative strategy, missing opportunities and failing to mitigate emerging risks.
Leave A Comment | How May We Help You?
---
Change Agility is what we thrive on at LaMP International Limited.
From changing careers to changing countries, working across industries and borders, LaMP International has become synonymous with change and the ability of individuals and organisations to adapt – quickly.
Our programs, retreats and interventions have helped thousands of people all across the globe and we are confident that we can support you and help you to Change Your Script.
We look forward to hearing from you.
About The Author
---