The fastest emerging trend in organizational development in 2022 involves the use of mobile technology, social media, online learning and flexible or adaptive learning principles. It changes the way we measure results, what results we aim for and our organizational effectiveness. The global events of the last 2 years have demanded different needs and wants from both employees and employers.
Organisations are hard-pressed to respond and adapt.
The primary purpose of Organizational development, (better known as OD), is to design, create and build a new reality that will ensure sustainability, growth and profitability. Given the pace of changes in the micro and macro environment these days, many organisations are merely fighting to survive.
No different to individuals who have succumbed to the pandemic of 2020 to 2022, organisations are waking up to the hard truth that their current structure no longer affords them the luxury of time, flexibility and continuity.
Add the 'Great Resignation' to this fact and you would begin to understand that even OD has some major changes to do. 
What Is Organizational Development?
---
According to the International Organisation Development Association (IODA), founded in 1986, OD is:
"… an effort planned, organization-wide, and managed from the top, to increase organization effectiveness and health through planned interventions in the organization's 'processes', using behavioural science knowledge."
To simplify, OD uses behavioural models, initiatives and interventions to improve an organisation's performance, health and effectiveness. The term was coined in the 1960s when the significance of behaviour within organisations was first being documented using in-depth analysis and research data.
Scientific approaches to change, structure, dialogue and the impact of behaviour emerged during this time. Psychologists and researchers were driven to understand how the conflicts and upheavals of the 60s were impacting organisations socially, mentally, emotionally, economically and behaviorally.
Apart from sustainability, organisations were forced to seek out different ways to approach performance and productivity. Around the world, profound upheavals were taking place, from the Civil Rights Movement in the US to the Beatles in the UK, Castro in Cuba and Indira Gandhi in India.
The world was different and organisations had to find ways to reinvent themselves and the way they worked.
Sounds familiar?
The Impact Of Technology On OD
---
With its origins in the 1930s, OD remains the major and most meaningful approach to organisational change, by far. Perhaps, this is because it uses a more holistic and sustainable approach with the objective of transforming both thoughts and behaviours of an organisation.
If aligning thoughts and behaviour within an organisation is considered a success, then achieving congruency would be a utopia. The essence of OD – changes in the behaviours and thinking within an organisation – is the same however, there has been a change in the fundamentals of how you get to that juncture.
Digitalisation is the core impetus for many of the changes in OD from the 60s to now.
The early 60s saw the introduction of 3rd generation computers, such as IBM's System/360, followed by their System/32 and System/36 minicomputers in the mid-70s. From then to now, there have been quantum leaps in digital technology leading us to the 21st century and wearable computers.
How OD In The 60s Compares With Today
---
The quantum leaps in digital technology and the easy access to learning and development have directly impacted not only the pace of change but HOW we change and adapt. Knowledge is no longer available to a few of the privileged. With internet access, anyone, anywhere in the world can have immediate access to the same information, training, ideas and support as you do.
That has totally changed not only the game but also the players.
No longer do you have to wait to be sent to training or directed to a place to address performance issues. Solutions to almost every issue are readily available in your hand and even on your wrist.
This article is a case in point. If you are reading it, you may have been either very curious about trends in OD, learning about OD or in need of some information to help you design an OD intervention. Whatever it is, you were able to find it by simply searching one of our Search Engines.
Mobile Technology Leads The Charge
---
The heart of every emerging trend in Organisational Development lies in digital and technological development. At the beginning of 2020, the world ran, full speed, into major closure. We closed the doors to our homes, offices, entertainment areas, vehicles and schools as the pandemic rippled like waves across the world.
There was ONE thing that kept many of us connected and productive – digital technology. We used digital technology to keep connected to our loved ones, to keep our businesses afloat, to keep learning, to feed ourselves and often, to keep our sanity and to stay alive.
From 2020 to 2022, organisations had to redefine themselves, how their people worked, how they produced, how they were constructed, what effectiveness meant and how they delivered on it. Almost everything had to be reinvented and digital technology was at the core of that.
Using technology, we can perform more direct and meaningful diagnostics, complete more in-depth analyses and design more effective interventions and initiatives that are specifically tailored to the problems at hand and the people who would benefit the most.
The Organisational Challenges
---
Now that we are opening up again, there are fundamental challenges for many, if not most, organisations. Questions like these are flooding discussions and my inbox.
How do we help our workforce return?
What is the "new normal"?
How do we deliver on the changed expectations?
Is our business still relevant?
Do we need to see every employee, every day?
What work is not necessary?
How do we change the way we measure performance?
Should we reward performance differently?
Are the traditional benefits still relevant?
What do we spend our money on to realise the best returns?
Should we sell out or should we invest more?
Do we scale back or do we expand?
Our reliance on technology, the internet and social media has facilitated a renewed exploration of OD and how it can support more effective change within organisations.
If there was ever a time when fast-paced change was needed, it is now.
The Fastest Emerging Trend In OD
---
This takes us to the fastest emerging trend in organisational development and that is experience.
Last week, I participated in a Talent conference which was led by a team out of Malaysia. The focus of the 2-hour discussion was on how our current global talent pool was able – or not – to manage the fast-changing needs of organisations. One of the participants shared this important point from the Founder of Teleport.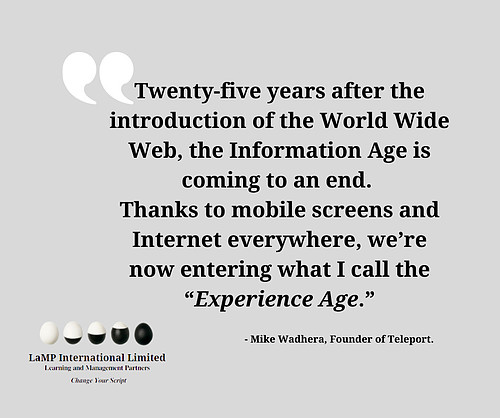 Mike said this in 2016 – 6 years ago! In response, I shared the following quote.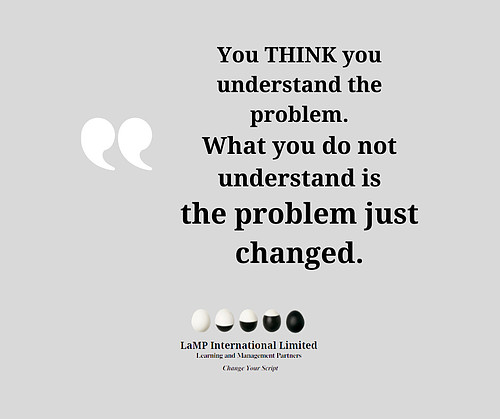 If you and your organisation are still working on Information Age problems with Information Age thinking, know that you are lagging way behind and you may soon find yourselves becoming redundant. This, in my opinion, is the number 1 emerging trend in OD today.
Since the start of the Experience Age, much has changed in the way we live, communicate, learn, earn, develop, share, and support.
Okay, let's face it. Almost everything has changed. If we have been on that trajectory for the past 6 years, then, the pandemic put us on a train travelling faster than the speed of light.
Experience Is The New Learning & Development
---
Have you reflected on what got us through the 2-year pandemic? Although I am not sure that we are 100% out of the woods as yet, we have started to resurface and rebuild.
But to get this far, we relied on the experience that we had gained from our successes, failings and risks. We shared those experiences like table salt, with anyone who was willing to embrace it and even those who didn't. We put all of our experiences out there and digital technology was our vehicle, starting with the internet.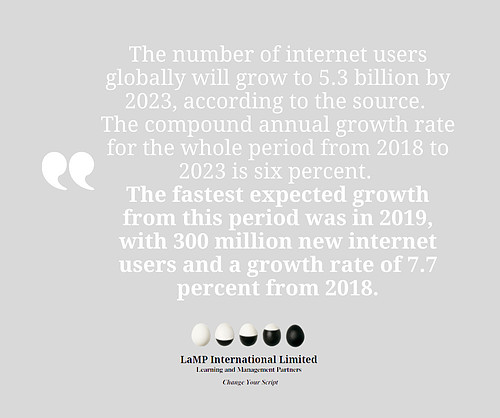 SOURCE: Statista
The cornerstone of the Experience is "show, don't tell". Put another way, teach me to fish, don't give me a fish. As you repeat that sentence, reflect on your own experience during the past 2 years. We all went to the internet and social media to communicate, connect and learn whatever we wanted to.
Organisations and educational institutions were forced to find ways to continue. They had no choice, The world could not move to get to what it needed. Everything – from food to knowledge – had to be delivered to doorsteps and homes.
A New OD Experience
---
If we revisit our definition of OD, we will see that we refer to efforts that are planned and managed from the top. But, the last 2 years brought a flood of unplanned chaos that the world was unprepared for. OD took a backseat as everyone grasped for straws.
Now that we are returning to our puzzles, we have a meaningful opportunity to rethink our organisational effectiveness and how OD may be able to help us repair the damage or recreate a new reality. The latter is critical.
What is the point of reverting to "the way things used to be" if our current reality has changed?
Organisational Development can certainly help with this by first helping us to understand where we are currently at and redefining our end game. We also know that building in flexibility will be a fundamental shift, for those who have not yet given that facet of organisational life much thought.
Closing Thoughts . . .
---
Over the past 25 years, I have seen OD trends shift and change. The heart of the discipline though has kept its beats firm and consistent. With good reason.
OD is built on change management. Change is about people. Although want we want, where we are going and how we get there may be changing, our human construct remains unchanged. Maslow's Hierarchy of Needs is perhaps more relevant today than it was when Maslow first crystallized it.
Most of the work I currently do is directed toward supporting people who work through the change cycle. Uncertainty brings challenges and challenges, if clearly defined and understood, can lead us to greater effectiveness. Collectively, this pooling of increased effectiveness can serve organisations by strengthening their organisational development capabilities and competencies.
---