The biggest Human Resources (HR) trend of 2022 is, without a doubt, an organisation's ability to effectively manage its talent needs. This means retaining good talent and attracting new performers who can hit the ground running. There are other connecting factors but the primary vein is Talent Management. Organisations have haemorrhaged and many are still struggling to regain firm footing.
Much like the supply chain, our global talent market is experiencing an upheaval. There was a war on talent and talent won. Talent is in control and calling the shots.
What does that mean for those of us who survived the pandemic and all the issues that came our way as a result?
How do we recalibrate?
How do we find our balance again?
How do we reconstruct our lives and our organisations?
What lessons do we take with us and what do we leave behind?
In this article, we will explore some of the pertinent issues for employees, HR and organisations to consider during this time of never-ending change and unpredictability.
The Global Pandemic, 2019 to 2022
---
The current, ongoing outbreak of the coronavirus, COVID-19, was first reported in Wuhan, China on 31 December 2019. On 11 March 2020, the World Health Organisation, (WHO), declared COVID-19 a global pandemic. The pandemic brought the world to a halt.
In addition, the impact on mortality and morbidity was heart-wrenching. According to worldometers, there have been over 569 million cases reported worldwide and over 6.3 million deaths reported as of the date of this article. These figures may be way off, however.
Earlier this year, in May 2022, the World Health Organisation, (WHO), released its long-awaited estimates of excess COVID-19 deaths. According to nature.com: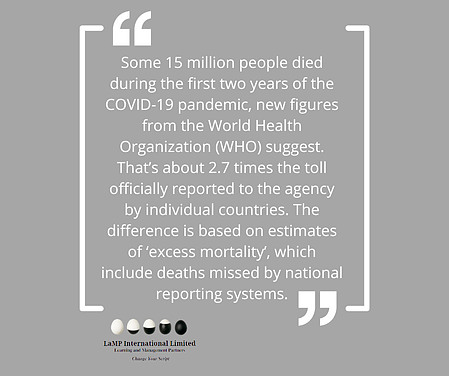 The article further states:
"Most of these deaths (84%) are concentrated in Southeast Asia, Europe and the Americas, with more than two-thirds (68%) occurring in just 10 countries."
The country at the top of this list is the United States of America (USA) where over ONE (1) MILLION people have died.
Many More Lived . . . And Lost
---
Although many more people lived to tell the tales of the pandemic, millions lost their jobs and livelihoods. According to Georgetown University, at its peak in April 2020, over 23 million people had lost their jobs.
Women, the less educated and those between the ages of 18-29 years were the hardest hit. Frontline and service sector workers in industries such as agriculture, health and personal care, food preparation and hospitality, education, production and construction were amongst those who felt the brunt of employment losses.
The 'Great Resignation' Becomes The 'Great Re-Signing'
---
And, if the global supply chain issues are not enough for organisations to demand fresh OD strategies, the Great Resignation may cause many to bend and break at their knees. Our human resources are changing their lives, lifestyles and what is important. They are not waiting to serve the organisation first.
They are making themselves their #1 priority.
To regain their footing faster, companies are redesigning their structures, how they define work, where they work and making their roles more efficient and effective.
And, it is at this juncture, where human resources meet organisational behaviour and development that we find the genesis of the biggest HR trend of 2022. With talent in the driver's seat, the Great Resignation is fast becoming the Great Re-Signing.
Never before has there been so many opportunities – all around the world – to own and control the work you want to do, how you want to do it and where.
You have the power to lead the charge and your life. The opportunities to re-sign your reentry into the workplace are bottomless.
Talent Was Born And Rediscovered During The Pandemic
---
As we were locked up from 2020 to 2021, we had 2 years to unlearn and relearn. We were also challenged to tap into our personal resources and discover some of our hidden talents.
Almost every day, new Chefs and creative Educators emerged on Facebook. Being at home meant that you had to redesign your home space and create safe work and study areas so everyone could Zoom, Google Meet or whatever technology suited you.
To survive, organisations as living systems, had to adapt to physical absence and become comfortable with the fact that seeing their employees every day in the office would not bring in revenues. Work had to get done whenever, however, wherever.
Talent stretched itself thin!
Re-Sign Or Resign – The Choice Is Yours
---
Given the dynamics of the past 2+ years, it does make sense that re-signing or resigning is going to be the biggest HR trend of 2022.
Do you return, stay but differently or, do you move on and explore other aspects of your interests, dreams, talents and opportunities? The motivating thing is that the choice is yours.
Good employees are needed.
Creative Entrepreneurs are in demand.
Strong and resourceful Leaders are in short supply.
The field is cleared for those who are courageous enough to step forward into the unknown and shape the future.
The question is: Will it be you?
Closing Thoughts . . .
---
At the end of 2019, October to be exact, my Partners and I made a decision to start transitioning our business and change the way we worked. We all came from Management Consulting in the "Big Firms" and had grown tired of the business hustle and struggle.
We were successful. That was not the issue. We wanted more control over the purpose and outcome of our engagements.
Slowly, we started to change our business model and take our business online. Then, in December 2019, the COVID-19 pandemic emerged. By March 2020, we were locked inside.
Thankfully, we were already ahead of the game.
Today, we are major contributors to this global movement to redefine work and how results are achieved. We are where the problems are, supporting our Clients and helping them to resign from the old and rethink, redesign, restructure, relearn and re-sign into a different future.
How is your future shaping up?
About The Author
---
Cassandra is the Founder, Managing Director and Lead Partner of LaMP International Limited. Having established the boutique firm as a global Facilitator of Change, she now spends most of her time designing learning interventions, networking, creating new products and services, contributing to their community and social interventions and building content.
She enjoys, reading, writing, travelling with her daughter and spending time on her mountain estate exploring nature and growing what she eats.