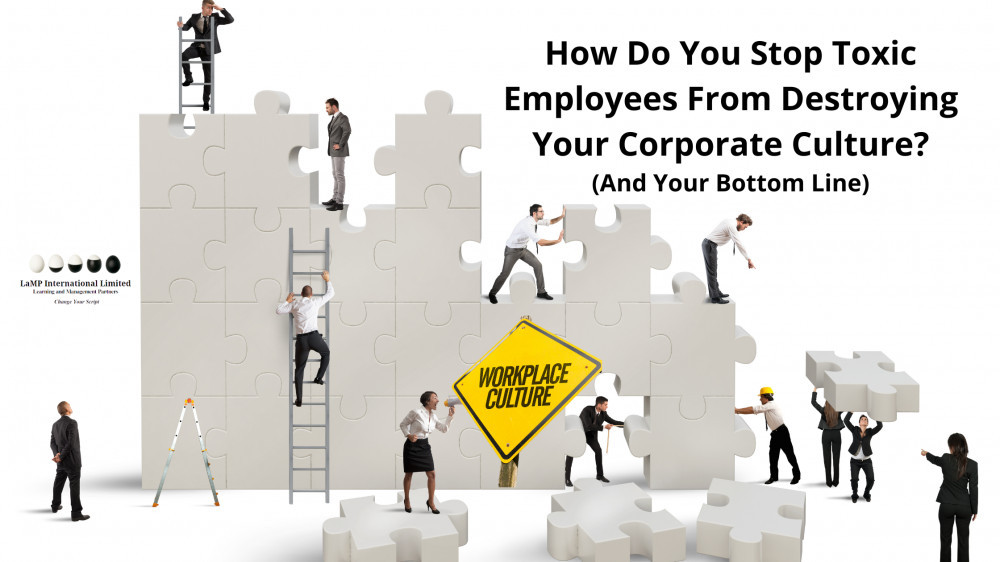 One of the most challenging aspects of workplace life is how to stop toxic employees from destroying your corporate culture – and hurting your bottom line too. Unfortunately, many people do not pay attention to the connection between the two.
Probably because they cannot articulate it themselves.
In today's global climate, as we continue to grapple with life after the COVID-19 pandemic, many workplace environments are hurting – and toxic.
That means the people in them are hurting because organizations are Living Systems after all.
In this blog post, we are going to examine how toxic employees can damage your organizational culture and provide some initiatives that you can implement to stop the damage.
How Do You Stop Toxic Employees From Destroying Your Corporate Culture?
---
The most effective way to prevent or stop toxic employees from destroying your corporate culture is to follow these eight (8) steps:
1. Establish clear values and expectations.
2. Do not allow the behaviour of toxic employees to fester.
3. Nurture a positive and supportive environment.
4. Define a Code of Conduct.
5. Facilitate training and development to support expected behaviours.
6. Be congruent with the expectations of your employees.
7. Listen, observe and be curious.
8. Use termination assertively and fairly.
A toxic employee can have a significant impact on your company's culture. Over time and depending on the intensity of their toxic behaviour, they can also directly impact the company's bottom line.
You must address toxic behaviour promptly and create a positive and supportive work environment. Doing this will ensure that you protect your company and your employees from the negative effects of toxic employees.
Let us look at these 8 steps in more detail.
1. Establish Clear Values And Expectations
---
A common mistake is to avoid sharing and reinforcing what you expect from employees.
Think about your own orientation when you joined your current company.
Did you explore your company's values and ethics?

Were you allowed to ask questions and understand how they aligned with your own?

Are they congruent with who you are as an individual?
Clearly communicating your company's values and expected behaviours to all employees will provide a reference point for addressing toxic behaviour. It also provides a framework for employees to follow.
Once all employees understand what behaviours are acceptable and what are not, it becomes easier to manage and lead. Everyone hears the same message.
Use regular conversations, communication initiatives and training sessions to reinforce and remind employees of what is expected of and from them.
2. Do Not Allow Toxic Behaviour To Fester
---
This is a test of your own self-confidence, management effectiveness and leadership style. It involves appropriate behaviour and timing.
Toxic behaviour should not be allowed to slip by unacknowledged.
If your company's culture is conducive to this, the first place that toxic behaviour should be stopped is by a co-worker. This is assuming it has slipped through because the employee forgot or had a moment of weakness.
Any employee should feel safe and supported when they have to bring toxic behaviour to the forefront. It should be second nature to highlight it. The employee receiving the feedback should also be pleased that s/he has an opportunity to realign their behaviour.
If you notice toxic behaviour, do not ignore it. Address the situation promptly and professionally. Provide clear and direct feedback to the employee and explain to him/her the impact their behaviour is having on the team and the company.
Sometimes, people really do not know that they are having a negative effect on others. Give them a fair and healthy opportunity to make an adjustment.
ADDITIONAL READING >>>> Self-Confidence And Self-Esteem: 6 Things You Should Know
3. Nurture A Positive And Supportive Environment
---
To achieve both 1 and 2 above, it is necessary to create an environment that is supportive and positive. This does not mean that you have to be all fluffy and soft.
Far from it.
You need to be assertive, enabling, facilitative, fair and decisive.
While you allow employees to feel safe making and correcting mistakes, they must understand there is a limit to what can be tolerated. Any excessive allowance could be detrimental to your environment and wider culture.
Foster a positive and supportive work environment by promoting teamwork, open communication and respect for all employees. Encourage employees to speak up if they do experience toxic behaviour.
Allow them to share not only their concerns but also their solutions. Be open to feedback.
Encouraging a culture of transparency and honesty helps your employees feel heard and valued. When this happens, they are more likely to take appropriate action before situations become out of control and cause too much damage.
4. Define A Code Of Conduct
---
A Code Of Conduct is important for establishing an inclusive culture in a company. Every company should have one.
It clearly outlines the principles, standards, values and behaviours that are expected. These guide the choices that are made and the decisions that are taken.
The welfare of all Stakeholders is embraced and the rights of all are respected.
An effective Code Of Conduct is the stepping stone to a culture that embraces Diversity, Equity, Inclusion, Belonging and Accessibility. It shows that the organisation welcomes fairness and does not exclude its employees.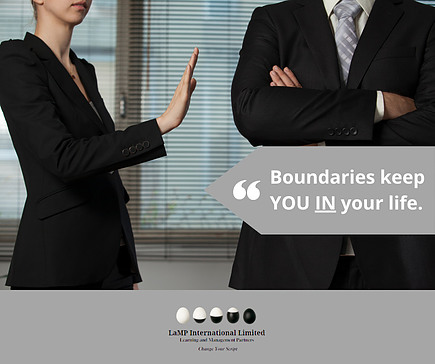 As with any behaviour that is not acceptable or encouraged, there must be clearly defined consequences for not aligning with the Code Of Conduct. These consequences must be communicated and reinforced as often as possible.
Employees are much like children and will push the boundaries as far and as hard as you allow them to.
Be clear. Be consistent. Be fair. Be congruent.
5. Facilitate Training & Development To Support Expected Behaviours
---
According to the United States of America's (USA's) Bureau of Labor Statistics, "the number of job openings increased to 11.0 million on the last business day of December" 2022.
With so many opportunities available, just a few toxic employees, especially in management positions, can drive away top talent like you will not believe. Actually, even one toxic employee could cause that to happen, depending on their level of influence in the organisation.
Employees who are talented have several options. They won't stick around.
Forget all the slick talk in company presentations about recruiting and retaining talent, first put systems in place, (Code Of Conduct), to caution employees and then, if necessary, directly address employees who are poisoning the culture.
This is where training and development can support your efforts by reinforcing what has been defined and what is expected.
With all technology available, training and development can be facilitated more efficiently and effectively.
It is easy to implement an intranet or social media platform dedicated to your organisation's communication with employees. Be creative and engaging.
Get your employees involved.
If employees who are demonstrating toxic behaviours are still struggling, encourage them to seek help by offering Employee Assistance Programmes (EAP) that are confidential and safe.
RELATED TOPIC >>>> What Is The Fastest Emerging Trend In Organizational Development In 2023?
6. Be Congruent With The Expectations Of Your Employees
---
Congruency is one of the best-kept secrets about success. That is why it is our core competitive advantage. It is a strategy that is under-recognised and understated.
As a leader, you set the tone for your company's culture. The most effective and meaningful way to ensure that everyone "gets it" is to model the behaviour you expect from your employees and encourage others to do the same.
In other words, to use a popular cliché,
Walk the Talk!
Your actions and attitudes set the tone for your company's culture. Lead by example by exhibiting positive behaviours and attitudes. Hold all employees, including yourself, accountable for maintaining a positive work environment.
There is a changing of the guards in the workplace.
Recent US statistics show that the number of Millennials in the workforce is 56 million. This generation represents 35% of the total US labour force.
Currently, they are the largest working generation.
There are 53 million Gen Xers in the US workforce.
The Baby Boomers are leaving with approximately 41 million working in the US.
By 2025, Millennials will represent 75% of the global workforce and they expect assertive and congruent leaders to take them into the future.
7. Listen, Observe And be Curious
---
Even though you are supportive, you implement effective training and development programs and your culture supports open communication, not everyone will behave in the same way.
People in organisations play out what they know and behave the way they have learned to in their homes, schools and other communities. Those behaviours and attitudes will not change overnight.
It will take time.
This is why you also have to be observant, genuinely curious and listen astutely.
I am an Introvert so observation and listening were not all that hard for me to learn. However, my early personal experiences clouded my relationships and I spent many years learning how to change my life script.
Let's just say, for now, that my behaviours were not always the best.
As I became more self-aware and self-confident, I learned how to master the art of keen observation, listening and genuine curiosity.
Today, those artful skills have helped me to become a sort-after Coach, Facilitator and Management Consultant.
Always invest in your learning and development.
8. Use Termination Assertively And Fairly
---
Finally, when all else fails, you may have to place separation or termination on the table.
When an employee chooses to continue to engage in toxic behaviour, despite all the interventions, support and efforts to address it, taking appropriate action is necessary.
This may include disciplinary action that may lead up to and includes ending the relationship.
Before making this decision though, consider the employee's overall contributions, the impact of their behaviour on others, and the potential consequences of termination.
Make sure that you have worked through all the steps and opportunities for correction if this is an employee that you have invested in and matters.
Sometimes, life happens. Our personal situations impact our professional life and knowing that our organisation was prepared to work through the tough times with us can do a lot for commitment and productivity.
But, again, I will emphasize that you should not drag things on to the detriment of others, your credibility and your organisation's reputation – internal and external.
Bad news travels fast.
Some Of My Closing Thoughts . . .
---
You have to stop toxic employees from destroying your corporate culture if you want to attract – and keep the best talent. This is a fundamental requirement to ensure the sustainability and growth of our organization.
Toxic employees are a major threat to your company's culture and will hurt you, your team and your business.
Over the years, I have seen companies struggle your long periods of time because of their toxic work environment. A few of those have been at the mercy of their founders and owners.
If you are caught in the web, it may be best for you to move on sooner rather than later.
With so many people focused on their mental health, well-being and quality of life, it makes good sense for organizations to pay attention to the work culture that they are nurturing.
People have a lot more choices now and fewer and fewer are sticking it out just to have a job.
Thank You!
---

A Little About Me
---
Hi! I am Cassandra, the Founder and Chief Cook and Bottle-Washer at LaMP International Limited.
Thank you so very much for taking the time to read this article. I trust that you have enjoyed reading it and that it helped you to better understand how to stop toxic employees from destroying your corporate culture – and possibly your bottom line too.
I have been working within the OD space for over twenty (20) years. It continues to serve me well in my roles as a mother, sibling, partner, facilitator, coach, strategist, change agent and entrepreneur.
My work has impacted industries such as Energy, Oil & Gas, Manufacturing, Media, Distribution and Management Consulting in roles that took me from a staff position all the way to the E and C suites. I have worked on all the main continents – Americas, Australia/New Zealand, Africa, India and Europe.
I love working with people and organisations and helping them become more effective, successful and sustainable.
Reach out to me if I can assist you in any way and help you to Change Your Script!