The difference between a Head of HR and a Head of Talent Acquisition includes:
Different Skills

Different Roles

Different Reporting

Different Functions and,

Different Expectations

A Head of HR or Human Resources is responsible for all of the management areas for a company's employees. This includes finding and onboarding new employees, ensuring that their time spent in the organisation is mutually beneficial and facilitating an efficient exit. The Head of Talent Acquisition is only responsible for finding, selecting and recruiting the most suitable talent for the organisation.
That said, there may be some overlapping of responsibilities and functions depending on the size of the organisation. HR still tends to be quite administrative and many companies are choosing to outsource those functions. That way, they can benefit from more effective use of their HR Practitioner's time, especially at an Executive level.
Consider the role of the Head of Talent Acquisition to be very similar to that of a Sales Director. An organisation's most valuable resource is its Human Resource, (or so they say). Without it, the organisation cannot function.
It is the primary responsibility of the Head of Talent Acquisition to go to market and find the most suitable human resources, at the right time and for the right price.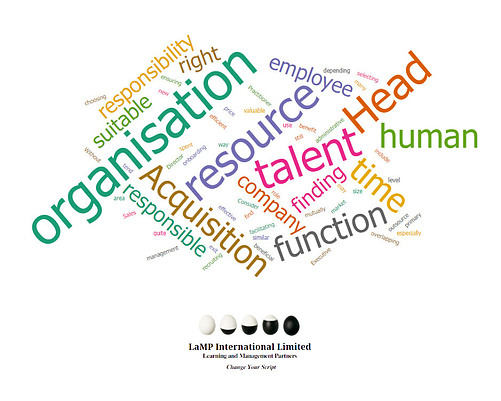 1. Different Skills
---
Let's start with skill sets. Primarily, the Head of HR is a Generalist who is responsible for all of the subset functions of Human Resources. These will include, (but not be limited to):
Recruitment & Selection
Training & Development
Administration
Compensation & Benefits
Employee Relations
Industrial Relations and,
Health & Safety
This means that the skill requirements are quite broad-based as the Head of HR has to manage all these sub-functions and ensure that they each deliver efficiently and effectively.
The Head of Talent Acquisition is responsible for one of the sub-functions, making him or her a Specialist. This requires you to know a lot more about fewer functions:
Knowing where to look for talent.
Knowing how to attract talent.
Selling the benefits of working for your organisation.
Negotiating compensation and benefits, and
On boarding talent.
2. Different Roles
---
As human beings, we are constantly shifting the roles that we perform. I prefer to work with roles as they are more holistic and encompass the fullness of who we are. A job simply identifies the tasks to be completed while a role explores knowledge, skills, competencies, behaviours, connections and expectations.
ADDITIONAL LEARNING > Role Analysis and Assertiveness – Sharpen Your Effectiveness
The role of the Head of HR demands flexibility across different sub-functions. It requires you to wear many different hats and to have, at least, an understanding of what is required for the Human Resources function as a whole.
Talent Acquisition is a Specialist role. The breath of responsibility is narrower and therefore requires less flexibility of performance. The construct of the role will be made up more of skill sets than sub-functions.
3. Different Reporting
---
Knowing that Talent Acquisition is one function within Human Resources helps you to understand the reporting structure. Usually, Talent Acquisition will report directly to the Manager or Head of HR. Sometimes though, because o the strategic importance of recruitment and Talent Acquisition, the role may report directly to the CEO or Managing Director.
The Head of Human Resources may report to the CEO or an Executive in the role of Vice President (VP). If the latter is the case then the VP may hold additional responsibilities such as Corporate Affairs and Health & Safety.
Today, as more organisations move toward leaner middle management and senior management teams, more functional responsibilities are being grouped together.
The primary focus for both Talent Acquisition and the Head of HR is the people within the organisation. This requires both direct and indirect reporting on varying levels.
4. Different Functions
---
Although you may be thinking that this is the same as a role, it is not. When we think of function, we think of job function. This usually refers to the list of tasks and responsibilities that an organisation's employee has to complete while performing in a role.
Your job title may not reflect your job functions either.
Case in point.
Your job title may say, Head of Talent Acquisition but your job functions, as noted on your job description, may list tasks such as:
Training & Development
Compensation & Benefits
Employee Relations and,
Industrial Relations
These are job functions that are also the responsibility of the Head of HR. This tends to be the case in a smaller organisation where responsibilities, tasks and deliverables are more closely aligned.
5. Different Expectations
---
Now the difference between a Head of Talent Acquisition and a Head of HR may make a lot more sense to you, it is easy to appreciate that the organisation, staff and management will have many different expectations from each role.
If you have both within your organisation, you will most likely approach your Head of Talent Acquisition when you need to recruit and select your ideal Direct (Solid Line) Report. You will work closely with him/her to define what you need from your new Talent and what your performance expectations are.
Your Head of Talent Acquisition will then go to market on your bel]half to ensure that you are able to secure the right talent, for the right position at the right time.
From your Head of HR, you may expect more breadth and depth. You may want him/her to work closely with you to help you not only find the best talent but also to strengthen your line functioning and work more efficiently and effectively with your staff.
Closing Thoughts . . .
---
I am often asked by non-HR experienced persons, how to get into HR. More often than not, I usually recommend that they begin with Talent Acquisition, Recruitment & Selection or Administration. These roles allow you to transfer more general skills and qualifications to the role of HR while you start to be more specific with learning the profession.
The Head of HR always has a Talent Acquisition cap on as without people, there is no need for HR. Even when you have an adequate number of people in your organisation, they may not be in the most effective roles or performing to the best of their abilities.
That will require you to assess your talent and make some important decisions such as moving people into different roles or out of the organisation altogether.
Whether it is Talent Acquisition or HR, the importance of the roles should never be unstated or undervalued.
Did This Article Help Your Understanding?
---
Human Resources could seem a little confusing to many people. It is no different to any other profession that may be unfamiliar to you. Understanding it and all its elements is easy if you take it one piece at a time.
Let me know in the comments if this article was helpful to you. If there is any topic in HR, management, leadership or personal development that you have a particular interest in, let me know as well.
I would be happy to answer your questions or simplify something that you may find challenging.
Thank you for reading!
---

ABOUT THE AUTHOR
Cassandra Patrovani is the Founder and Managing Director of LaMP International Limited. She founded the organisation in 2000 in New Zealand. Today, she lives with her daughter in her birth country, Trinidad, and leads a team of Consultants and Coaches around the world.
She has a keen interest in human behaviour and helping individuals and organisations to befriend change, live well and travel light.